A peak into the life of a monster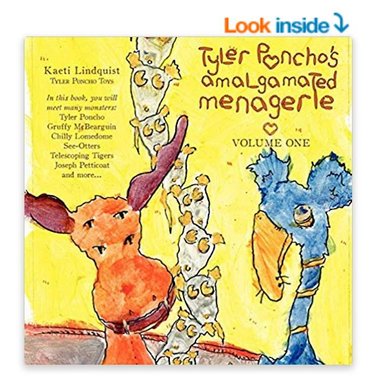 Tyler Poncho's Amalgamated Menagerie
Tyler's home planet, Peacock City Planet, is filled with all sorts of wondrous and unusually formed creatures. Tyler explores his world making and eating friends, and adventuring through the landscapes of his small home planet... until Interstellar Tyler Poncho flies off planet to discover other worlds.
Join Tyler Poncho and his many friends on his adventure to find a new home! Tyler Poncho is the ultimate happy-go-lucky monster, guaranteed to be full of intense love. He comforts with his points, warm fur, and super smiley demeanor. Along his way he meets Chilly Lomedome, who makes flowers appear where he steps, and Gruffy McBearguin. The extreme cold of the antartic caused a genetic mutation amongst the penguin population, and Gruffy was born. At least he has the best mustache on the continent.
The Sinister Circus
As Tyler ventures further into the darkness of of the unknown, he happens upon a place of glowing wonders, a carnival of mutated forms of his home and familiar friends.
Tyler becomes Ringmaster Reginald who introduces himself to his fellows of the circus, dancing brightly through their world of lighted contraptions.
The carnival wonders illuminate this new planet. It is his home world, inverted. From within this altered dimension, what once was now is not, it is a backwards, upside-down, bizarre space in time.
All the carnival citizens construct contraptions, cantankerous calliopes and cunning consorts. Within weeks of his arrival, a new city blooms on the edge of this unstable world. It glows and mutates in its own rhythm, the only marker of passing time.
The Ringmaster has expanded this carnival. The once familiar in its inverted form becomes once again like his home.
Contact Me
I may type slowly with only two paws and no fingers,
but I would love to chat.
tylerponcho@gmail.com
Follow me on Instagram: @mr.tyler.poncho